All Slavyansk ECO employees, from the director to the worker, are subject to a uniform occupational health and safety management system.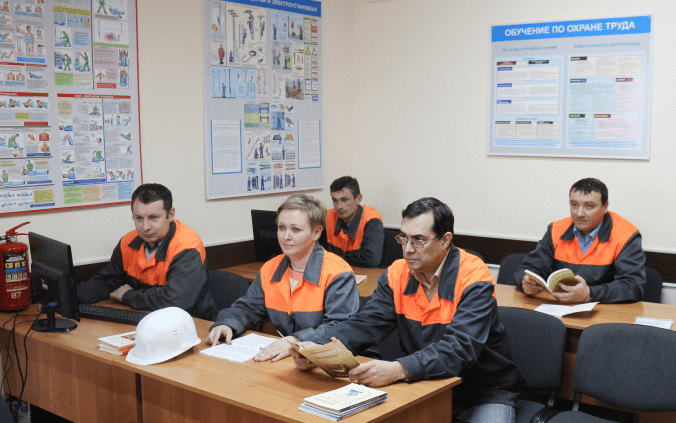 An occupational health and safety management system has been developed and put into place at the plant outlining the responsibilities of all the workers, as well as the requirements for industrial safety at production sites. Such a system helps to minimize injuries and increase the economic efficiency of production. Plant workers are provided with certified workwear, special footwear, collective and individual protective equipment in a timely fashion.
Our company has developed a social program designed to improve labor safety. We care about the health of our employees and do everything to maintain warm coworker relations.
Workflow Activities Are Presented in the List:
Acquisition of workwear and personal protective equipment;
Making sure that workers (in hazardous conditions) have access to milk or other equivalent products based on the results of workplace certification;
Ensuring that all organizational units have lunch rooms equipped with all the household appliances necessary for a comfortable meal;
Medical and health services for workers: uninterrupted supply of drinking water at the workplace, proper maintenance and continuous operation of personal hygiene rooms, availability of first-aid kits;
Annual additional paid leaves to workers employed in hazardous and (or) dangerous working conditions according to the results of workplace certification, as well as for irregular working hours;
Additional compensation to employees for weekends and holidays when they were required to work;
Acquisition of New Year's presents for children;
Covering gym and pool memberships to all the interested workers and their family members..
Отзывы сотрудников
Брагин Павел Глебович
Начальник смены технологической установки СК-700
На предприятие устроился оператором технологической установки 4 разряда. За многолетний добросовестный труд полгода назад меня назначили начальником смены. Я думаю, что все со мной согласятся, что сегодня очень важна стабильность, уверенность в завтрашнем дне? Все это даёт мне работа в ООО «Славянск ЭКО»: оплата труда высокая, премии, доплата за работу в отрасли, отпуск всегда по графику, карьерный рост. За время моей работы в подразделении не уволился ни один человек, что только подтверждает, что достойней работы у нас в городе, да и в крае не найти
Ширин Юрий Анатольевич
Начальник производства по первичной переработке углеводородного сырья
В компании работаю уже 12 лет и очень дорожу своим рабочим местом, потому что здесь ценят умение и профессионализм. Работы, конечно, много, но оплата труда достойная и всегда вовремя. Мои сотрудники со мной солидарны, поэтому в моём подразделении текучки кадров нет, коллектив сплочённый и дружный. Хочу поблагодарить руководство компании за доверие, справедливость и понимание.
The specialists of the plant's health center, equipped with medical supplies and state-of-the-art medical equipment, keep a close eye on the workers' physical condition. Based on the results of a routine medical examination, it is determined who will make up the cohort of workers that need health resort treatment. Apart from that, medical coverage includes:
Mandatory preliminary, routine and unscheduled medical examinations (screening) in accordance with the medical recommendations with the specialist retaining his job (position) and average earnings for the duration of the medical examinations;
Voluntary medical insurance, mandatory occupational accident insurance;;
Making one-off payments to compensate for injuries sustained by the employees as a result of industrial accidents or occupational diseases, taking into account the requirements of the current legislation regarding the amounts of these payments;
Vocational training, retraining and provision of other work, if available, to the employees who have received medical contraindications for participation in the previously performed work;
Regular vocational training (retraining) and advanced training of the plant's employees.